If you are looking for an extremely useful product that provides a multitude of functions, but comes with reduced dimensions and it is lightweight, thus enabling you to take it with you anywhere you go, you should buy the MIDLAND WR300 Weather Radio.
If you know a couple of things about the best weather radios and their purpose, you most certainly have heard mentioned that Midland is one of the top radio manufacturers that has always offered its buyers products of an outstanding quality.
The  item weighs 1.2 pounds and it has dimensions of 7 x 5.5 x 2.2 inches. That is why you can keep it inside the house or take it out in the yard whenever you need. The WR300 needs to be plugged in to function and uses an AC adapter included in the delivery package, which you connect to the product using the red jack placed in the back of the radio.
The product comes with audible and visual alarms that you can use concomitantly, or disable one of them, depending on the place in which you keep it. The siren alarm can get very loud, to ensure that even in larger spaces all the people around can hear it, but it may be disturbing in tight spaces, where the visual alarm is sufficient to let you know a hurricane is about to make landfall in your city. The blue LED backlit LCD display indicates the alert type and, when the alerts has expired will indicate EXP to let you know the danger has passed.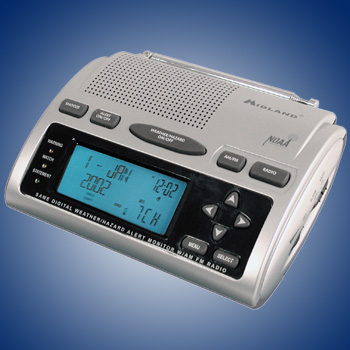 The product comes with an intuitive menu,which makes this product easy-to-use even for those using a weather radio for the first time.The item can memorize up to 23 different codes which enables you to receive all weather alerts for the codes you've introduced, and it can store up to ten different alarms. However, you can pre-program the device to emit only those that are pertinent for the area in which you live or for nearby counties. And, to let you know the severity level of the alert, in the left side of the device you have a built-in color code alert (advisory, watch, warning) that flicker to notify you what type of alert you are dealing with.
Furthermore, the tiny device receives not only all 7 NOAA Weather Channels, but also weather alerts issued by Environment Canada Weather, for the moments when you decide to take a trip north. Don't worry about long voyages when you don't have an electric source at your disposal, as the radio is backed up by 4 AA batteries that can last up to 25 hours. However, for emergency cases when you are in need of more power backup, it is recommended you take with you a spare set of batteries.
Due to its telescopic antenna, the radio is capable of capturing the Weather Radio Channel even when you are at an increased distance from the transmitter.
The item is fitted with an earphone jack and a DC jack if you want to recharge your iPhone. The radio can be used as an alarm clock and it has a calendar indicating the year, month and day.